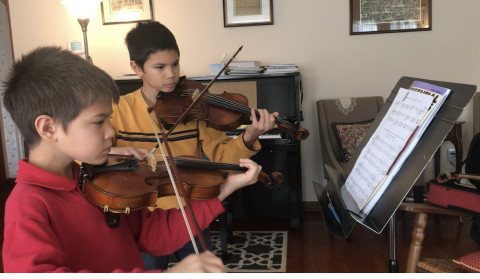 I am a professional violinist with 20 + years of teaching experience. My music studio is located in Montgomery County, MD. Graduates of my studio have been admitted to prestigious conservatories such as Oberlin Conservatory, Manhattan School of Music, Rutgers Mason Gross School of Music and others and have won many solo competitions throughout the United States.
I have a deep love and appreciation for music and I enjoy teaching my student from beginners to very advanced or adults. All levels are welcome! My studio is geared towards the motivated student seeking a well-rounded enjoyable, yet detailed, music education that focuses on both excellence and artistry.
Special emphasis is placed on building and maintaining a strong classical music base, which is the foundation for all other styles and techniques found in music. Additionally, students are exposed to learning concepts in ear training, sight singing, music theory, music history, folk music and improvisation. This enables students to be exposed to other areas of music such as composing, arranging, conducting, etc., thereby giving each student the unique opportunity to branch out and explore endless opportunities.
All teaching is conducted in a supportive yet challenging environment. Each student is encouraged to think for themselves and develop their own judgment through the development of their ear and musical comprehension.
Student recitals I arranged twice a year to showcase my students talent and progress and encourage their love for music.
I also organize other activities for my students such as Master classes.
I offer a half hour lesson for beginners, a 45 min. lesson for intermediate and an hour lesson for intermediate to advanced students.
Above all, I strongly encourage enjoyment of music.
Other music lessons: I also teach chamber music and orchestral repertoire.
For the younger kids (3+years old), I developed an early start program called "Violin Virtuoso Early Start" designer to achieve fast results while having fun!
For more info you can check my Facebook page and listen to some of my students performed.
Specialties
Chamber Music
Classical
Suzuki
Violin
Violin / Viola / Chamber Music Strings
Violin Folk and Improvisation
Violin Sight Reading and Orchestral Rep.
Violin Virtuoso Early Start 3+