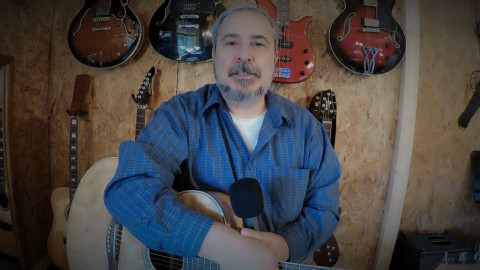 I've been teaching Guitar in Beulaville NC for about 35 yrs to all ages. What students have to say about me.
"I have been taking lessons from Ronnie for a year. Although I have some musical experience with guitar and other instruments, Ronnie has really transformed my poor playing habits and greatly expanded my guitar abilities in my first year of instruction. He is very patient and has the ability to make learning guitar fun!
Duane Blanton 2017"
"By far the best teacher around. I don't think that I would've stuck with it if hadn't been for him. He places lots of emphasis on the basics which lays the groundwork for future success. And like Mr. Holland, he stresses that playing music should be fun. He knows when to push and when to hold back. An excellent teacher, I would highly recommend him to any one interested in learning to play guitar.
Walter B. Crumpler 2017"
"Ronnie Castellano is the best! He has taken this "mature" person with absolutely no musical experience and is teaching her to play a very difficult instrument that she has always wanted to learn. He is patient, has a great sense of humor, listens to what you say and what music you want to learn. When he senses that you're not getting a concept, he tries one or many other different ways to get it across. Always generous with his time and his incredible knowledge of music. So happy to be one of his students :-)
Pamela Rau 2017"
A free 30 minute consultation is required so I can meet parent and student. You can message me on Facebook or call me to set up day and time for this consult.